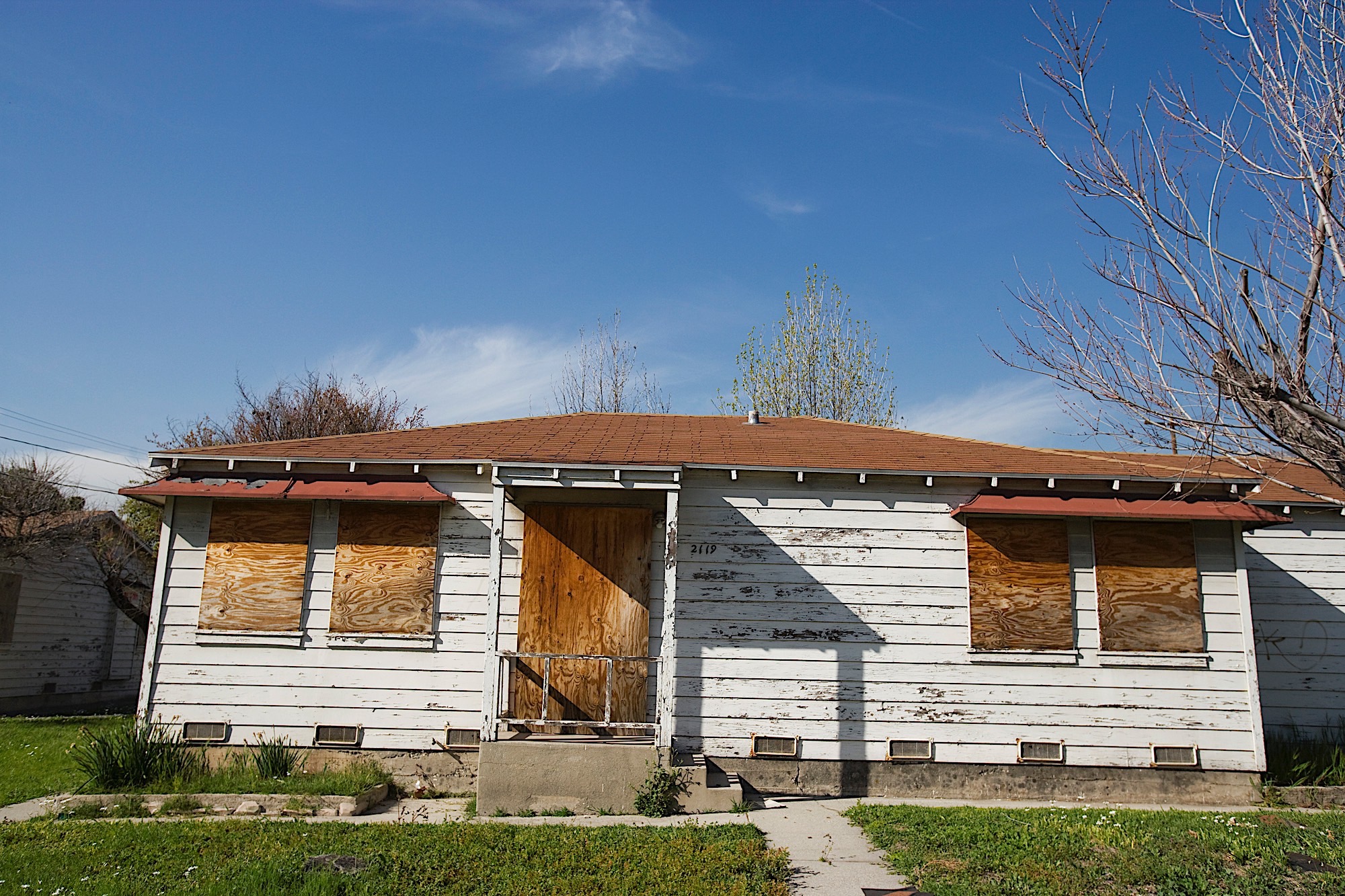 How To Find Distressed Properties: 6 Creative Hacks
There are a number of ways to find distressed properties, but the following six strategies are amongst the best:
Look For Properties That Are In A State Of Neglect
When it comes to the physical appearance of a distressed home, there's one telltale sign to keep in mind: neglect. More often than not, a neglected home and yard mean the owner has given up trying to maintain the property. Now, that could mean one of two things; either the owner simply doesn't want to maintain the home, or they simply can't afford to. If you come across the latter, you may find a motivated seller willing to part ways with the home at a discount.
Search For Properties With Delinquent Taxes
Delinquent taxes are public record and could suggest a homeowner is in financial trouble. If for nothing else, those who can't pay their taxes may also not be able to pay their mortgage. Therefore, those with delinquent taxes could be motivated to sell.
Find Properties With Delinquent Mortgage Payments
Not surprisingly, homes with delinquent mortgage payments represent the epitome of distressed properties. Those who can't pay their mortgage are at risk of foreclosure and may be willing to sell at a discount if it means avoiding foreclosure and all of the financial woes that accompany it. Fortunately, delinquent mortgages are made public and can be found at the home's local courthouse.
Look Into Probate Real Estate Opportunities
Probate properties, or those that are left behind as the result of a significant life event—like divorce or a death in the family—represent an opportunity for investors. Specifically, those inheriting the home may not want it. This represents a chance to take it off their hands for a good price.
Peruse REO & Bank-Owned Property Listings
Real estate owned homes, or REOs, are those properties that have already been repossessed by lenders. That said, lenders aren't in the business of holding real estate inventory, and would rather get rid of non-performing assets. As a result, savvy investors may be able to convince said lenders that selling them the home at a discount is their best move.
Driving For Dollars
If you're wondering where to find distressed properties, there is a traditional method that transcends time: hopping in the car and driving around. Assuming you already have a target neighborhood in mind, simply drive around and look for properties that stand out from others due to a state of neglect. Telltale signs to look out for include an overgrown yard, broken windows and shutters, exterior paint that is faded or peeling, notices that are posted on windows and doors, and junk mail and newspapers that are left uncollected. If you find a property that meets any or all of these descriptions, be sure to write down the address so you can start investigating.
Other Options
For those wondering how to find distressed properties other than driving around, there are multiple methods to searching online. However, it should be noted that distressed properties come in many forms, and are not always called "distressed" outright. Look for 'distressed properties for sale by owner' that are delinquent in taxes and mortgage payments, properties that must be sold legally due to bankruptcy or divorce, probate deals, and properties that are owned by the banks or the government. Starting with the first example, finding properties with tax delinquencies is luckily a straightforward process. The hardest part will be finding your local tax assessor's web page that lists these properties. After you have found the site, simply search the listings until you have found a property you're interested in. Another type of property that might be in distressed is one for which the owners have been delinquent on their mortgage payments, also known as "underwater." These properties are usually in "pre-foreclosure," and can be found on multiple listing sites such as your local county website or paid sites such as Foreclosure.com.
Properties that must be sold legally, such as through bankruptcy or divorce, may also be in distress. When looking through your county foreclosure listings, you may have already noticed listings that are listed as being auctioned for bankruptcy or divorce. Although not every county is required to list such properties, you can at least find properties that are up for auction. The probate court is yet another creative space to find distressed properties. Probate property is one that was owned by someone who has passed but without leaving the property to anyone in their will. It should be noted that making an offer on a probate sale requires a special process, as the property is being sold through an attorney or an executor. Finally, investors should search through REO (real estate-owned) and government-owned properties that have already been foreclosed upon. When a property owner fails to make mortgage payments, the provider of the mortgage loan (in this case the bank or the government) retains the rights to reclaim the property. Many local and national banks have their own property listing sites, as do government entities such as Freddie Mac and Fannie Mae.
How To Find Distressed Commercial Properties
Commercial investing websites: There are several commercial real estates investing sites, including LoopNet. Once on the listing website of your choice, utilize the search filter tools to narrow down your search to distressed properties or properties up for auction.
Brokers: Commercial real estate brokers can also be great sources that can connect you with distressed properties for sale. As a professional who is licensed to buy, sell and lease properties for business purposes, brokers are bound to be in-the-know about distressed properties as well.
Lenders: As is the case with residential property financing, many investors go through traditional financing to fund their commercial real estate deals. Others may use creative financing such as through a hard money lender. Search through various lender websites to see if they provide real-estate owned property listings in the commercial category.
Networking: Working with brokers and lenders is included in the strategy of networking. Having a successful investing business is synonymous with an effective networking strategy. By staying connected with a multitude of real estate industry professionals throughout your career will increase your odds of landing investing opportunities.
Direct mail campaigns: Whether you identify distressed properties for sale online or through your network contacts, you will still need a strategy for targeting the listings you have found. Direct mail remains one of the most effective marketing strategies in real estate, where you have the opportunity to make compelling offers directly to the seller.
How To Find Distressed Properties On The MLS
Although the functionality of the Multiple Listing Service (MLS) differs from state to state, investors should never forget this important resource. Although a real estate license is required to access the MLS, investors have the opportunity to work with a professional with access to obtain listings. Listings may be coded with status such as short sale or real-estate owned that can help signal a distressed property. In addition, look for properties that have been listed for longer than 90 days. The 90-day mark is a key indicator that will signal the motivation level of the seller. The longer a property stays on the market, the more motivated, or desperate, the seller will become. This can often lead to great deals and savings for investors, if they know where to look.
3 Important Tips For Buying A Distressed Property
Choose a target neighborhood: If you don't already have a target market in mind, selecting a neighborhood will help focus your search. If a specific neighborhood does not yield satisfactory results, there is no harm in widening your search gradually.
Don't just look for the "distressed property" label: It is important to keep in mind that many sellers would never want to call their own house a "distressed property." If you're wondering how to find distressed properties for sale without actually using the word "distressed," look for owners who are quite motivated to sell. This may be because they are delinquent on taxes or mortgage payments, or are going through bankruptcy or divorce. Remember to search through government and lender listings, as well as probate auctions.
Get pre-approved for a mortgage: Once you find the perfect property for sale, time may be of the essence. By making sure you are ready to make a credible offer by getting pre-approved for a loan, buying distressed properties will be a much smoother process.
Finding distressed properties for sale is no easy feat, but once you combine several creative strategies for identifying and targeting these properties will offer great reward. By incorporating the creative hacks listed above, including the important tips to keep in mind, you will be on your way to finding these coveted investment opportunities.
Between residential and commercial properties, which type of distressed property would you target? Feel free to share in the comments below.